Continuous Distillation with a Fouling Reboiler
A large chemical plant operates a fouling reboiler with forced circulation on a distillation column. When allowing boiling in the tubes, the operation suffers from severe fouling of the exchanger. Suppressing the evaporation in the tubes by installing a throttle plate in the reboiler outlet did not inhibit fouling.  The conventional installation is shown in Figure 1.
Figure 1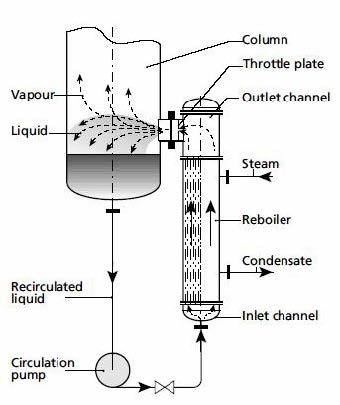 Recently, we were approached by plant management to offer a solution for this severely
fouling reboiler. Revamping the existing reboiler operating at a liquid velocity of 1.2 m/s, into a
Klaren self-cleaning configuration at the same liquid velocity was appealing. The client appreciated the fact that the cleaning particles could be removed from the exchanger if the revamp did not totally solve the fouling problem. In that case, the exchanger could operate as before the retrofit. The client stipulated that the retrofit work in the plant should be minimal. The installed pump must be used and the connections of the reboiler to the column would be maintained. An elegant design proposal was submitted that met all the criteria and is shown in Figure 2.  As expected, installation was a success.
Figure 2
Batch Distillation with a Fouling Reboiler
Solvent recovery operations typically include a batch distillation unit with an external reboiler. Oftentimes, it is not possible to get enough heat transfer area in the jacket to which additional surface is required. Internal coils will often foul in solvent recovery operations, therefore, an external pumparound heat exchanger is necessary to supply heat for boil-up.  In a fouling service, the self cleaning heat exchanger can provide for more consistent column operation.  By eliminating fouling, wall temperatures can be lower which is particularly important with processing heat sensitive fluids. By installing this self cleaning reboiler, the monthly hydroblasting cycle can then be eliminated.
Let Costello 's experience and expertise help you with your Heat Transfer Problems.