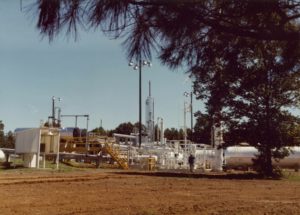 Methanol contamination in your amine system can lead to performance problems in your amine system as it builds up.
Methanol is commonly injected down hole in natural gas wells to prevent the formation of methane clathrates (hydrates) in natural gas wells.
Hydrates
Methane clathrates (hydrates) typically form during natural gas production. As liquid water condenses in the presence of methane at high pressure hydrates can form. Larger hydrocarbon molecules such ethane (C2H6) and propane (C3H8) can also form hydrates.  Even larger molecules such as butanes (C4H10) and pentanes (C5H12) cannot fit into the water cage structure that encapsulates the hydrocarbon molecule and tend to destabilize the formation of hydrates. Trace impurities in hydrates include carbon dioxide (CO2), nitrogen (N2), and hydrogen sulfide (H2S).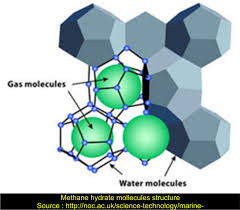 Production Downtime
Hydrates can block pipelines and processing equipment. They are typically removed by reducing the pressure, heating them, or dissolving them a chemical agent such as methanol or ethylene glycol.
In some cases a hydrate can completely plug a choke on the inlet to a gas fired heater at the well head. The piping must be depressurized on both sides of the heater, the choke dissembled and the hydrate removed from the choke and piping. This can result in a extensive downtime.
Prevent the Formation of Hydrates
It is generally preferable to prevent hydrates from forming and plugging equipment. This can be accomplished by removing water, or by the addition of ethylene glycol or methanol, which act to depress the temperature at which hydrates will form (like antifreeze). Recently other forms of hydrate inhibitors have been developed, such as Kinetic Hydrate inhibitors.  Polyvinylcaprolactam is one type of kinetic hydrate inhibitor which slows the rate of hydrate formation. Anti-agglomerates are another type which do not prevent hydrates from forming, but do prevent them sticking together so that equipment does not plug.
Methanol Distillation
The injected methanol can ultimately end up in your your knock out water, or worse, in your amine unit where carbon dioxide and/or hydrogen sulfide are removed from the natural gas.
Long term the methanol circulates in the amine unit and slowly concentrates up to percentage levels which can lead to operating problems.
It can be removed when the distillate receiver on the amine unit is coupled to a modular methanol/ water continuous distillation unit.  The methanol is recovered and can be sent back to the well head for reuse. The water can sent back to the amine unit for water makeup, thus creating a closed loop for both methanol and water.
The separation from methanol and water is a fairly simple binary distillation because there are no azeotropes.
COSTELLO can design a modular methanol recovery unit that can be coupled to your amine unit.
References:
Behavior and Effect of Methanol in Amine Treating Systems,  by Ralph Weiland , Anand Govindarajan , Albrecht Goethe and Rich Ackman
Distillation an Introduction, by Ming T. Tham
Phone: 310-792-5870 Email: rcca@rccostello.com
Website: rccostello.com