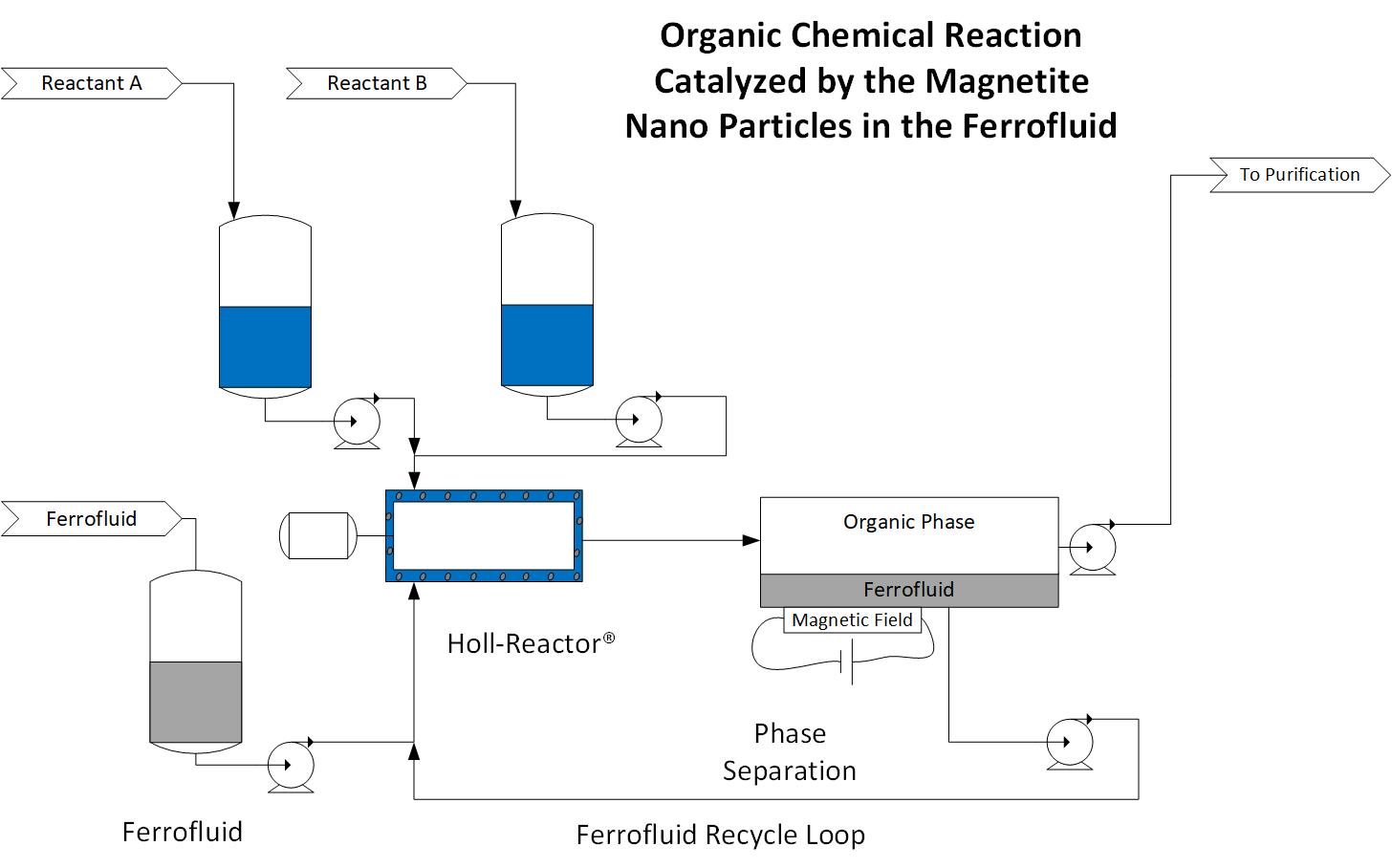 This document connects three research subjects concerning ferrofluids, i.e. the synthesis and use of catalytic magnetic colloids, process intensification and ferrofluids in general.
Ferrofluids are nano particles of magnetite suspended in an aqueous or oily based substrate. They are made from a mixture of FeCl2, FeCl3 and water. Co-precipitation occurs with the addition of ammonia gas or ammonium hydroxide to produce the magnetite nano particles.
The particles will begin to agglomerate once produced so they must be coated with another material. The surfacted ferrofluids are coated with a surfactant and the the ionic ferrofluids have an electric shell.
Organic synthesis can be carried out with two (2) organic liquid reactants and a ferrofluid in a Holl-Reactor® when the required catalyst is magnetite.
The Holl-Reactor® will produce an emulsion of the two (2) reactants and the ferrofluid, but with the magnetic field in the phase separator, the organic layer is quickly and completely separated from the aqueous ferrofluid phase. The ferrofluid is recycled back to the front end of the process. Ferrofluids can be heavier than water or lighter than water as the specific gravity can be tuned by the magnetite particle density in the ferrofluid.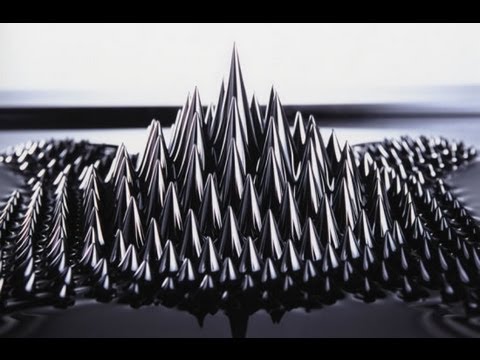 The reactants and the Ferrofluid catalyst are brought together in the Holl Reactor®.  The Holl-Reactor® overcomes mass transfer limitations if the two reactants A and B are immiscible.  The discharge of the reactor flows to phase separator for separation and recycling of the catalyst. The organic phase moves forward for phase separation and purification of Product C. Typical syntheses include thioethers, vinyl thioethers, thiol esters, and thia-Michael adducts.
If platinum particles can be attached to the magnetite particles then other chemistries can be performed.  Two of the most important transformations using platinum catalysts include the hydrogenation of nitro compounds to amines and ketones to alcohols.  These reactions can be performed in the Holl-Reactor®also.
These intensified processes can all be built as modular plants.
Ferrofluids: Properties and Applications C. Scherer and A. M. Figueiredo Neto, Brazilian Journal of Physics, vol. 35, no. 3A, September, 2005
Iron(oxide) ferrofluids: synthesis, structure and catalysis, Butter, Karen (2003) Utrecht University Repository (Dissertation)
Magnetite (Fe3O4) nano particles: an efficient and reusable catalyst for the synthesis ofthioethers, vinyl thioethers, thiol esters, and thia-Michael adducts under solvent-free condition, Barahman Movassaghand Ali Yousefi)
COSTELLO provides the chemical process industries with innovative chemical and environmental engineering services, advanced and emerging process technologies, and regulatory compliance support that optimizes client expenditures and manpower requirements.