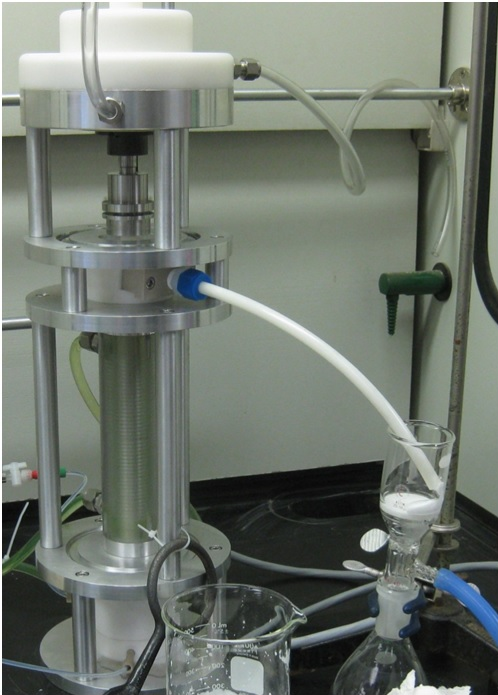 In this second installment of the Holl-Reactor®, we will discuss practical applications.
Liquid-Liquid Reactions
Mixing two liquid reactants is very typical.  This is oftentimes done in a Continuously Stirred Tank Reactor (CSTR).  Depending upon the physical properties of the two liquids, reaction times can be anywhere from minutes to hours.  However, with the Holl-Reactor®, these reaction times can be reduced to seconds.  For example,  in the biodiesel manufacturing process an oil needs to be mixed with a methanol based catalyst, where the two fluids are immiscible.  This reaction typically takes place in two CSTR's in series, with a phase separator in between the reactors. The residence time required in the CSTR is 20 – 30 minutes.  A single Holl-Reactor®, with a residence time of 3 seconds or less, can provide the same results.
Gas-Liquid Reactions
Gas-liquid reactions such as chlorinations or oxidations are very common in the chemical industry.  However, mixing gases and liquids can be problematic.  No matter how finely divided the gas phase is upon introduction to the reactor, over time the gas bubbles will begin coalescing, decreasing overall gas phase surface area and increasing the overall reaction time.
With the Holl-Reactor®, the high shear creates very finely divided bubbles, creating an almost instantaneous reaction.  The very short residence time is not conducive to coagulation.  As a result, gas-liquid reactions can be handled very effectively in the Holl-Reactor®, minimizing overall equipment costs.
Liquid-Liquid Reactions with Nano Particle Catalysis
The Holl-Reactor® is ideal for nano particle catalysis when a an appropriate method of recycling the catalyst particles post reaction and back back to the front of the reactor. Membranes have not worked as well as first thought but Pickering Emulsion/Organic Biphasic Systems may offer a way to recycle the catalyst particles and draw off the reaction products in a multi phase separation vessel.
The Chinese have published this paper, "Recycling Nanoparticle Catalysts without Separation Based on a Pickering Emulsion/Organic Biphasic System", which is also of interest.
Phone: 310-792-5870 Email: rcca@rccostello.com
Website: rccostello.com