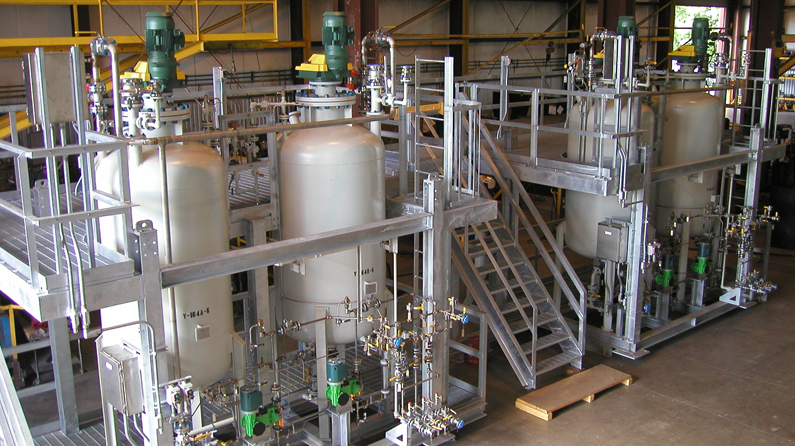 Are you thinking of adding capacity to an existing facility or adding a new process plant to your site? Then you should consider having a skid mounted process plant designed for you by COSTELLO. Skid mounted process plants have several benefits over other (stick built) types of process plants. Taking advantage of them can not only help you save money but also improve your site safety and reduce the impact to your current facility. Here are some more benefits to a skid mounted process plant, as well as design considerations you should keep in mind.
Flexible Construction
Choosing to construct a skid mounted plant gives you a wide range of flexibility. Skid mounted plants are ideal for installing in remote areas that don't provide easy access to traditional construction methods. These types of plants can be constructed off-site and then moved to another location at a later date if needed. You can even load a skid mounted process plant into a sea-going container and ship it overseas if that suits your need.
Skid mounted plants also reduce the amount of total construction infrastructure that you need at your plant site. This can help keep the disruption to normal plant activities to a minimum while you are adding your new process plant. They also offer a higher quality of craftsmanship than other types of construction since all crafts are under one roof.
Finally, the total completion time is drastically reduced. Instead of months to years, a skid mounted process plant can be installed in weeks and be ready to use shortly thereafter.
Think About Location
One design consideration for a skid mounted plant is location. While they can be placed virtually anywhere, improper location can lead to issues. Think about what it would be like if a plant is located in a spot that makes it difficult to inspect the vessels or remove heat exchanger ends for cleaning. Planning ahead with COSTELLO can avoid such a fate.
You need to ensure that the layout of your skid mounted plant matches up to the accessibility of the location where it will be placed. Remember to thoroughly review the detail design to ensure that you will not be creating future issues.
Process Control Considerations
Process control location can be a cost or cost savings depending on what you choose. Mounting your Programmable Logic Controller (PLC) right on the skid is a great way to reduce wiring costs. With all of your instrumentation and wirings are right on the skid, and you do not need to worry about routing to a control room. The downside is that your controls may need to be placed in an NEMA 7 or 9 explosion proof cabinet in case of catastrophe. As an alternative remote I/Os panels can be mounted on each skid and a CAT5 cable run from each skid to a central but portable control room where the PLC and the PC are located.
Needed Infrastructure to Handle the Skid
You do not want to hear "the skid is too big for the crane" the day your brand-new skid shows up to be put in place. Make sure your crane is large enough to lift the heaviest skid in a modular plant and have all the necessary support infrastructure to get your skid in place, installed and running.
Let COSTELLO Help with Your Skid Mounted Process Plant
Learn more about the services COSTELLO offers for skid mounted process plant design to get the most out of your new structure.