Process Intensification
The miniaturization of unit operations. Smaller unit operations mean less size, less weight and less structural steel, piping, conduit and wire. This means lower cost plants with smaller footprints.
Process Intensification

Process Intensification Services:
Technical Audit & Report
We review your process, sort through the process data, review technical information, and gather specific data to your chemical reactions including kinetics.  We then recommend suggestions where Process Intensification (PI) would be beneficially applied.  This includes reactors, distillation units, extraction units and heat exchangers.  We perform audits on both new and existing processes.
Pilot Plant and/or Process Testing 
We then work with you and our licensors to develop a pilot or test program for your process.  This testing should identify the degree of intensification that can be reached.
Front-End Engineering Design
We prepare intensified Process Flow Diagrams, Piping & Instrument Diagrams, equipment specifications and detailed process descriptions.
Cost Estimates
After the front-end engineering package has been completed, a Cost Estimate of the intensified process can be provided.
Detailed Engineering & Construction Oversight
Civil, structural, mechanical and piping are carried out at this stage.
Equipment Supply
Equipment supply is usually provided by our licensors and this includes bench scale, pilot plant and full size equipment.
ADVANCES  IN  PROCESS  INTENSIFICATION
The term Process Intensification (PI) was originally coined at ICI (Imperial Chemical Industries) in the UK in the early 1970's.  PI simply put is the miniaturization of unit operations.   This miniaturization should accomplish the following:
Reduce energy use

Reduce capital expenditures (Build Lower Cost Plants)

Reduce plant size and plant footprint

Achieve environmental benefits

Achieve safety benefits (Low volumes of hazardous or toxic compounds in process)
Approximately 20% of the cost of a new plant is process equipment with the balance being structural steel, piping, conduit, wire and instrumentation.  Smaller unit operations mean less size, less weight and less structural steel, piping, conduit and wire.  This means lower cost plants with smaller footprints.  In addition, many plants are amenable to skid mounted construction, which can lower costs even further. One of my recent articles entitled Process Intensification: Think Small provides a more detailed description of process intensification. This article has been published in numerous magazines. The link above will take you to be article as it appeared in Chemical Engineering magazine in April 2004. Reactors The heart of the Chemical Process Industries is the reactor and until recently, process intensification technology did not exist for reactors. Today, we have reactors that are the size of a 'credit card' calculator, look like a 12 inch piece of small pipe or resemble a high shear mixing device.
Reactor on left is International Mezzo Technologies' microchannel reaction system. Reactor on the right is R.C. Costello & Assoc., Inc.'s reactor model # CFR-T.
COSTELLO's reactor model # CFR-T. This reactor resembles a 12 inch piece of small pipe and was featured in the May 2004 issue of Chemical Engineering magazine shown below.
Supercritical single-phase hydrogenation is a technology that can improve product quality to levels previously impossible while reducing reactor size by a factor of at least 100. In addition, the costs for a process using this new technology are less than those for traditional batch hydrogenation. Therefore, we anticipate that supercritical single-phase hydrogenation technology will be used extensively in a wide range of industries such as pharmaceutical, fine chemical, food, surfactant, and petrochemical.
Harrod Research
Härröd Research is a company whose aim is to develop supercritical single-phase hydrogenation technology from a basic patent to industrial processes in co-operation with industrial partners.
Additional information on Härröd's Supercritical single-phase hydrogenation technology and US patents are in the links below:
Spinning Tube in a Tube is a paradigm leap by moving from a volume based to an area based reaction vessel.   The STT™ reactor eliminates:
Large volumes of valuable liquids held up in a Stirred Tank Reactor

Large amounts of power which are expended to merely recirculate large liquid volumes in stirred tanks although only the shearing areas of the impeller blades impart most of the useful work for mass transfer.

Long scale up time for new processes from bench- top to commercial size (typically, 3 to 5 years are needed for scale up)

Unwanted side products in reactions due to inadequate thermal control or hot wall effects.

Fouled surfaces associated with stirred tank, tubular reactors and heat exchangers
Mircochannel Reactors

Costello reached an agreement with International International Mezzo Technologies of Baton Rouge, Louisiana to collaborate on microchannel reaction systems. Mezzo is an offshoot of the MicroSystems Engineering Team Laboratory (µSET) at Louisiana State University, which over the years has attracted millions of dollars in federal, state, and industrial support for research and development of new micromanufacturing technology. Mezzo's core focus is merging thermal science and micromachining technology to form revolutionary thermal systems. Applications for this technology include: high power electronics, cryocoolers, radar systems, directed energy weapons, turbo machinery, fuel cells, pumps, thermal management, power systems, chemical reactors, and many other products. In addition, Mezzo provides design analysis, prototyping, and production services for RF, microfluidic, optic, magneto, bio-analytical, and electronic devices.
New Alternatives
Some new and exciting work currently being done by Costello involves exploring new ways to utilize existing process equipment as chemical reaction systems that will achieve process intensification goals. To meet our internal requirements and be cost effective, equipment must reduce reactor residence time by at least two orders of magnitude. The most promising areas we're exploring include homogenizers and inline high shear mixers. The trick here is to not reinvent the wheel and to keep our client's installed costs down.
Distillation Columns
In manufacturing, the reactor's partner is the column. Traditionally, columns have been bulky, large and limited by the force of gravity. The Higee miniaturized spinning packed column changes all that.  The Higee is a High Gravity Rotating Contactor with a compact design. It is able to induce centrifugal forces of over
1,000 times that of gravity.
Traditional Distillation Column Design
Higee miniaturized spinning packed column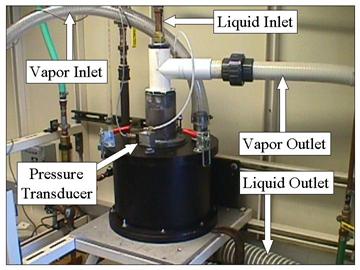 Typical Higee installations are used to strip organics from wastewater. Future installations are expected to include various types of distillation and retrofits to existing columns.
Reactive Distillation
Reactive distillation is used with reversible, liquid phase reactions. See the example shown below:



For many reversible reactions, the equilibrium point lies far to the left and little product is made:


However, if the byproduct water is removed, more of the product (C) will be made because of Le Chatlier's Principle: 

Removing a byproduct is one of the principles behind reactive distillation. The reaction mixture is heated. Then, the product and byproduct are separated by distillation. In this case, water is removed continuously to force the reaction to the right. When done in a distillation column, the water byproduct comes off the bottom of the column and the product methyl acetate comes off the top of the column.

Some reactions require the use of catalysts inside the distillation column. Some methods for introducing catalysts into the column include:
Structured packing coated with the appropriate catalyst

Trays containing pillows filled with catalyst particles

Pillows filled with catalyst particles rolled into bales
Typical reactions where a byproduct prevents the reaction from going to the right include:
Esterification                                            

Transesterification

Hydrolysis

Acetalization

Amination
 
Other types of reactions that could benefit from reactive distillation include:
Alkylation/Trans-alkylation/Dealkylation

Isomerization

Chlorination
We expect installations using reactive distillation to continue at a moderate pace in this decade.

Extraction
Costello offers extraction technology in the form of process intensification with the Advanced Phytonics technology.  With their technology, the solvent, Freon 141B, is flash evaporated from the extract.  This eliminates a costly distillation column and related auxiliary heat transfer equipment, pumps and process instrumentation.  To further simplify and miniaturize extraction systems, a Podbielniak extractor can be used in conjunction with Advanced Phytonics' technology. The Podbielniak extractor could be used to contact the solvent with the heavy liquid instead of using an extraction column. In this way, the entire process can truly be miniaturized.
Heat Transfer
In the field of heat transfer, the Klaren BV self cleaning heat exchanger technology requires significantly less installed heat transfer area than traditional shell and tube heat exchangers.  Since the Klaren units are self cleaning, there is no need to oversize your installation in order to compensate for pluggage. If you would like a quotation on a self cleaning heat exchanger, please complete the linked questionnaire and e-mail it to us. Another contender in intensified heat transfer technology is Alfa Laval with their Compabloc ® welded plate heat exchangers. These units have high surface area per unit of volume.
Computer Simulations
Since a process intensified plant may require multiple miniaturized unit operations, it is more critical than ever to simulate a new plant design prior to construction. In this way, most of the pitfalls are handled in the design phase before they can occur in the field. Costello has created custom unit operations for these intensified pieces of equipment.
ChemCAD simulation screen showing a flow sheet of a reactive distillation system for the production of ethyl acetate.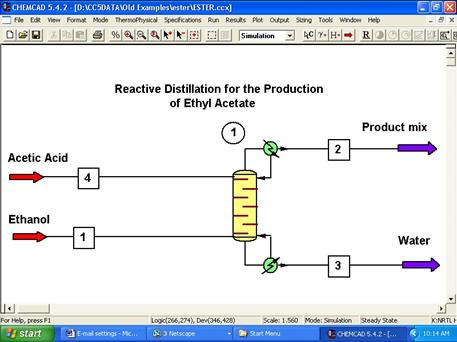 Costello creates process simulations of any chemical process that our clients need. These simulations allow unlimited "what if" analyses of a chemical process, quick modifications of an existing process to test an alternative flow scheme and/or simulation of all existing processes to aid in problem solving, troubleshooting, debottlenecking and equipment sizing. With reactors, columns, extractors and heat exchangers; all offering a Process Intensification alternative, the practicality and cost effectiveness of PI has become a reality. For further information on how we can help reduce your installed plant costs through process intensification, help you troubleshoot an existing plant or simply help you simulate your existing process, please contact us.
Recent publications on process intensification:
Please call for further information

R.C. Costello & Assoc., Inc.
1611 S. Pacific Coast Highway, Suite 302
Redondo Beach, CA 90277
Tel: (310) 792-5870, Fax: (310) 792-5877
E-MAIL: rcca[at]rccostello.com
COSTELLO

Consulting Engineers
Micro/Nanofluidic Technologies

What's Happening Right Now